my trips to shanghai, china last april and may were really awesome.. although it was evident that china is a third world country pretending to be first world, at least they are trying.. can't say the same for the philippines.. seems like we have given up.. but i digress..
the place was cold (it was getting a little warmer on my second trip in may as summer was approaching there) and smelled organic, the kind of smell that can only be found in asia.. yet as you look around, it was reminiscent of california, with skyscrapers and constructions abundant.. it was like a mix of the old orient and the new western world.. shanghai really is fast becoming westernized.. but before they can truly call themselves "first world", there are some things that they still need to improve on, starting with their english..
in an effort to show the world that they are indeed an international city, an english translation can be found wherever there is a chinese sign present.. however, some translations are just horrible.. the following are examples of what i'm talking about.. the shanghai science and technology museum alone was a goldmine..

..on my way to the museum:
worker 1: you think this is right?
worker 2: how should i know? just put the damn letter there..
worker 1: there.. ah, so that's how "group" is written in english..
..inside the museum:
come again?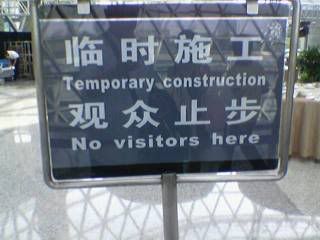 is there such a thing as "permanent construction"??
dude, i was only trying to give some construction criticism..
ano daw?
another head-scratcher..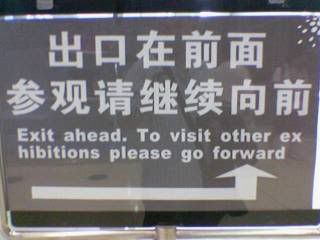 does that mean "former hibitions"?
yes, thank you for the suggestion..
does this mean "hindi basura" and "basura pa"?
..inside CARREFOUR, the shopwise of shanghai:
this one was to say "grocery", i think..
is it "blcycle" or "bicycie"?
maybe the "t" fell.. then again..
..and other signs taken at random places:
"shanghai spesial produst".. meron kaya silang spesial hofia?
"passengers stop"? that's a whole sentence already!
anybody up for a game of billiareds?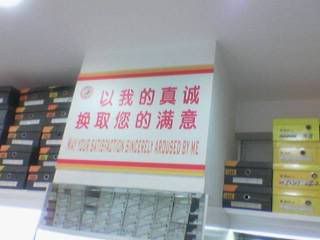 "may your satisfaction sincerely aroused by me".. bastos!
this is what you use to take out the firehyd..
reminds me of the "bawal tumawid nakamamatay" signs by the mmduhs..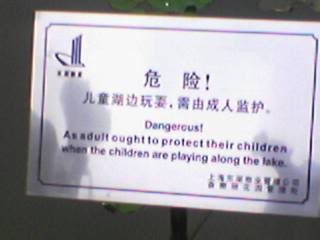 "dangerous! as adult ought to protect their children when the children are playing along the lake".. ha?





benta talaga.. china! i'll be backing soon enough over!